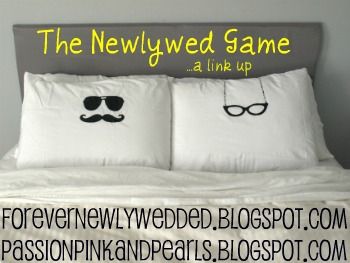 It must truly be a wedding weekend this week because I'm linking up with
Karla
and
Veronica
again for the Newlywed Game. I love this link up and I've had a lot of people tell me that they love reading it every week. So here is the most recent round of questions!
one

. In your opinion, who has the better in-laws? You or your spouse?
Her:
This question is so unfair and it's just asking to hurt someone's feelings!!!! We both have fantastic in-laws. Mine have accepted me from the moment they met me and have always treated me like family. I love them! We see my parents a little more often because they're just a town over and they've truly supported us in so many ways. They think of Jeremie like their own child. I don't think we would be where we are now without either of our families. So there. That's my answer. It's a tie!
Him:
I do. It is a close race but they help us out a lot and I know they are reading this. Love you Mom!
two

. Who decided on the wedding song for your first dance? What was it?
Her:

Neither of us had to decide. We just knew because it's been our song since we first started dating. It's Fix You by Cold Play. Jeremie had the a cappella group at our college sing it to me on Valentine's Day 6 years ago and it's been our song ever since.
Him:
She did, it was the Wedding Song by Peter Paul & Mary. I'm pretty sure that's who did it. She had that picked out 12 years ago
(wow, way to read the question babe. Our first dance song was Fix You, like I said!)
three

. Which song would you say is your spouses theme song and why?
Her:

Oh geez, that's a tough one. I think it would be Dirt Road Anthem because he loves just being outdoors and rugged. He's definitely not a city boy like he was raised!
Him:
Gangnam Style, because it is fun and ridiculous just like my wife. She would look way better in the video than Psy though.
four

. What is the first thing your spouse takes off when they come home from work?
Her:
This is a boring answer but I'm pretty sure it's just his coat. If he's not wearing a coat it's his shoes.
Him:
Her jacket. It would be impressive if she started with her socks. Besides the outside clothes, it is probably pants so she can switch to something comfy (sweatpants).
five

. Fill in the blank. When it comes to __________ I definitely wear the pants in this relationship, but when it comes to ___________, my spouse definitely wears the pants.
Her:
When it comes to finances I definitely wear the pants in this relationship. Not that I tell him what to do and not that I'm perfect but I think he's gotten better with his spending since we've been together. When it comes to anything involving communication my spouse definitely wears the pants. I swear we would be together if Jeremie hadn't taught me how to talk about stuff!
Him:
When it comes to handling arguments and fun , I definitely wear the pants in this relationship, but when it comes to being beautiful and making sure every detail is taken care of, my spouse definitely wears the pants.
(when it comes to handling fun...what does that mean?!? I'm not fun? Geez...)
six

. What's one this that you could do that would make your spouse the happiest person in the world?
Her:
Do all his homework for him and then get him a job. And a new car. Can I count that all as one thing?
Him:
Besides singing her every song I know, if I could eliminate all of our debt, she would be super happy. The weight of education loans lifted off her shoulders would pretty much make her fly.
seven

. What is the most unusual thing you've ever found in your spouse's pocket/purse?
Her:
Sometimes I just find notes with a bunch of kids names or a teachers name written on it because when he was subbing that day they gave him a list of everyone he needed to see or what teachers class he would be covering.
Him:
Pills of varying shapes and sizes just laying at the bottom. She's not a junkie, don't worry. But I guess that happens when you don't just turn your purse upside down every now and then.
eight

. In your opinion, does your spouse communicate better with talking, touching or eye contact?
Him:
Eye contact. I can tell what she means by looking at her which is more reliable than her saying it.
nine

. What would your spouse ideally want you current/future children to do for a living?
Her:
We've never talked about it but I don't think he would really care as long as they always try their hardest, achieve the goals they want to achieve and make themselves happy. Man, that sounded cheesy but I think we just both want our kids to be happy.
Him:
Whatever they wanted as long as it helped people in some way. I think we both want them to do their own thing that is respectable which in most cases is watching out for other people.
ten

. Keeping this as PG as possible....if you were blindfolded and need to pick you spouse out of a crowd, what would you search for?
Her:
First, I'd look for a guy the same height as me. That should narrow down the field quite a bit. They I'd look for facial hair and glasses and then I'd listen for his voice.
Him:
I would just hold hands with every person until it felt right. And hopefully that is either Stacy or Emma Stone.
(nice. I applaud your choice in an alternative woman)