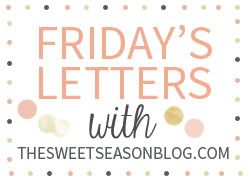 Today I decided to link up with my Friday Letters with Ashley at
The Sweet Season Blog
. I always do Friday Letters any way so I figured this week I would link up with some other bloggers and see what everyone is up to!
Dear Snowmageddon,
YEEESSSSSSS!!!!!!! Thank you! We live in Connecticut and I have been starved of snow all year. You have officially made my day. Although, if you knock my power out when it's 20 degrees out I will be a little mad at you.
Dear Snow Day,
Woohoo! Let's have some fun.
Dear Sirius,
I cannot believe you will be four next week. Stop having birthdays! Now. You are not allowed to get any older.
Dear Orion
, please stop looking at me with your puppy dog eyes. You cannot have my cinnamon bun!
Dear Husband,
Thank you for making me cinnamon buns this morning. You're the best!
Dear House,
please clean yourself.