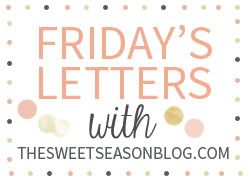 Well, it's Friday and I'm linking up with
Ashley
for Friday Letters! I've pretty much lost track of the days at this point. I got out of the house today with a fellow teacher and we did some shopping and just kept ourselves occupied for a while. It's amazing that we are now on snow day number six from this blizzard! I love, love, LOVE snow but I can't imagine what we're gonna do if we get anymore snow. We'll be in school till July! Oh well, only time will tell at this point.
Here are my Friday letters today:
Dear Blizzard Charlotte/Nemo
, really? I guess they were pretty serious when they called you "one for the books."
Dear Sirius and Orion
, thank you for all the snuggle time this week. Even with all the cabin fever you really made it more bearable.
Dear Husband,
I loved my first valentines as your wife! Thank you for all the surprise messages and the beautiful flowers!
Dear Sandy Hook
, it's been two months and my heart is still broken. It's getting easier but everyday is still a struggle. I love you, Sandy Hook. You are and always will be my home :)
Dear Students
, I can't imagine what you'll be like when we get back next week after almost 2 weeks off. Go easy on us teachers, please!!
Dear Ski Butternut
, watch out! We're coming for you this weekend!