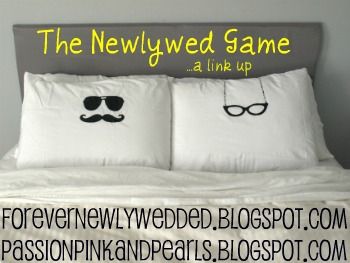 Ok, here we go again. It's time to link up with Karla and Veronica for the Newlywed Game, round six! Unfortunately I missed last week's link up and I'm pretty sad about it. So I'm super excited that the week flew by and it's time to start answering those crazy newlywed questions again! Maybe next week we'll get brave and try a VLOG! Eeekk!
one.

What advice would you give a friend who found out that he/she is getting married?
Her:

Oh geez, I feel like you can never give someone enough advice or prepare someone enough for planning a wedding. And then again, everyone is different and then wants different things. So who's to say my advice will benefit them at all? I guess the one thing I might tell them is be prepared for something to go wrong. Because it will. If you're prepared for it and you're willing to just go with the flow on your wedding day, you'll enjoy it so much more.
Him:
Well I find it interesting they are 'finding out' they are getting married. The first thing is to make sure they were conscious and not under the influence of something when their significant other made this decision. Second, if everything checked out, would be to set the stage for open communication. They need to be able to talk about things in a fair way where each person is heard and it is not one attacking the other. And talking about things on a regular basis, not just when something pops up.
two.

Do you have a pet name for your spouse? If so, what is it?
Her:

Babe. That's it. I'm boring!! He actually gets mad that I never use his real name.
Him:
Well, she loves Snuggly Wuggly Bear. She insists I call her that everywhere but I told her some people would look at us weird. I like to shorten her name to Stace. Hon is always nice and makes us feel older.
three.

What are 3 things that your spouse cannot live without?
Her:

Hmmmm, Orion "his" dog would definitely be number 1 (although I'd love to think it is me, I don't think it's true), cartoons, and the outdoors. I think if he was stuck inside all the time he'd go craaaazzzyy.
Him:
iPhone/iPad mini (have to be able to play Temple Run and Plants v. Zombies), chocolate ice cream, and snickers (don't even talk about mixing the last two. She would kill a person). (what?! everytime we go to Dairy Queen I get a chocolate snickers blizzard!)
four.

What is your favorite date idea? (something you have or haven't done)
Her:

I always like the idea of dinner and a movie. I really love going out to dinner together and having a glass of wine and just catching up. It's so nice when it's just the two of us.
Him:
I would love to go sky-diving with my wife. A full day of hiking through some beautiful place like where they filmed Lost, jump out of a plane, and then go to a nice place for dinner.
five.

Is there a book or movie that reminds you of your marriage with your spouse?
If so, which one and why?
Her:

Wow this is a really hard question and the only thing I can seem to think of is the Notebook. Which is funny because The Notebook doesn't resemble our relationship or our story in the least. Give me a sec.......Yea, nope. I got nothin'.
Him:
I'm going to break the rules: Boy Meets World. We can both be goofy and we learned that the tough times bring us closer. I just can't wait to be living on easy street.
six.

Rate the very last kiss you had with your spouse. How was it on a scale of 1-10?
Her:

It was a 10. I won't go into details but let's just say it was one of those kisses ;)
Him:
It was wonderful. They are all great. I would say it is a 7. But even her 1's make me smile. (I'm guessing we're thinking of different kisses here)
seven.

What was the very first thing you noticed about your spouse when you first met?
Her:

It was a long time ago but I would say it was probably his personality. He just seemed so comfortable around me right from the beginning (even though I'm pretty sure he told me he was super nervous) and he just seemed to get me right away.
Him:
Her hair. It was spiky and pink. I thought it was cool. I never wanted to mess it up.
eight.

What was the very first gift your spouse ever gave you?
Her:

Time to whip out the "dating box". Jeremie gave me so much stuff at the beginning of our relationship. It wasn't big presents, just small little tokens and I, of course kept all of it. I would say the first real gift he gave me was when he had the a' cappella group at our college come sing to me for Valentines day. That was a good one.
Him:
For my birthday, she gave me a CD (John Legend), a book (The Fountainhead), and a movie I think.
nine.

Is there anything you sacrificed when you married your spouse? If so, what?
Her:

I don't think so. And if there was anything then being married to Jeremie was more important because I didn't even think twice when he asked me. I think Jeremie sacrificed a bit though because he had to move away from his family and to a whole new state.
Him:
I sacrificed a crappy unhappy life.
ten.

What would your spouse say is the funniest photo of you?
Try & describe the picture, or post it below!
Her:

During our first year of dating my hosuemates and I threw a house party that we called "Beauty and the Geek". You were either supposed to come dressed as a beauty or a geek. Jeremie and I chose geek because it's wayyy more fun and we have some seriously priceless pictures from that night. They are still some of my all time favorites of us. Here they are:
Him:
It is a wonderful picture we took at her mother's house.
(this was during my bridal shower and we have NO idea what was going on right here. Everyone's face is so perfect though. It just keeps getting better and better.)
Sorry this was so late! But hey, better late than never right?